CTV Morning Live: Mortgage Minute - July 22
Date Posted: July 22, 2014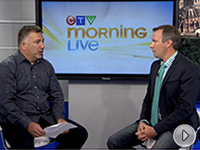 On this week's episode of the Mortgage Minute, Mortgage Broker Frank Napolitano talks to Jeff Hopper about the difference between a variable rate and a fixed rate.

Currently a variable rate mortgage is the best rate available at prime less 0.65% (2.35%). According to last week's Bank of Canada announcement, it appears that prime rate will be sitting still at 3%. September will mark 4 years straight where prime rate has not moved. It is important to discuss what mortgage product is right for you based on your full financial picture and risk tolerance, contact a Mortgage Broker for advice.

Click here for the full video.