Ottawa Storm - Dealing with the Damage
Date Posted: May 25, 2022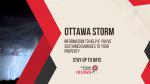 The storm in Ontario and Quebec has caused significant damage to our communities. Thanks to our friends at Trigon Insurance who have put together some information that may help if you've sustained any damages to your property:
1. Damage from fallen trees
Typically, the disposal of the actual tree itself is not covered under a homeowner's policy; however, the resulting damage it caused to your house or fence could be covered, and subject to your policy deductible.
2. Missing roof shingles
Roof damage from windstorms is typically covered under a standard homeowners insurance policy. Damage will be subject to your policy deductible.
Tip: Do all that you can do minimize further damage to your home by tarping damaged areas to prevent water from entering the house.
3. Spoiled food in your freezer
Most companies provide some type of coverage for spoiled food in your refrigerator or freezer.
This coverage may be subject to a maximum limit of coverage, and may be subject to your policy deductible, depending on the insurance company.
Tip: Make a detailed list of the items being disposed of and their approximate value so you can advise your broker of what needs to be reimbursed.
4. Car damage
If you have Comprehensive or All Perils coverage on your car, you're covered for damage from fallen objects (that includes trees!). The damage would be subject to your deductible, but it would be considered a 'not-at-fault' claim which won't affect your insurance rates.
We hope everyone is staying safe out there! Contact your broker if you're unsure about any damage to your property.