Open House - The Real Estate & Mortgage Show: May 30th, 2022
Date Posted: May 30, 2022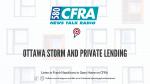 The Ottawa storm took a toll on a lot of properties the previous weekend. Many homes suffered damage from trees and high winds and others suffered the damages of lost food from the extended period without power.
If you're selling your home, it is your responsibility to fix any damage before selling. It is generally a good option to have a home equity line of credit for situations like this.
Qualifying for a mortgage is getting increasingly difficult by the day and we see more and more people turning to private lending to get their mortgages. We also see more people getting qualified for variable rate mortgages rather than fixed because it is easier to qualify on a variable.
Again, as a reminder for everyone buying, selling, or renting – we get questions all the time asking if the market is going to crash. The market has seen constant increases in almost everything over the past two years and we are finally beginning to see everything settle down. The best way to look at it is the market is going to stabilize. Don't panic because we are now able to get back to a regular market.
To hear the full podcast; click here
Contact your Mortgage Broker today for trusted advice