Open House - The Real Estate & Mortgage Show: May 16th, 2022
Date Posted: May 16, 2022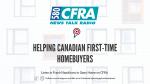 The growing question in 2022 is how can young Canadians afford a down payment on their first house? It seems increasingly difficult to find a strategy to make it possible and it is seeming almost impossible for most. According to Frank Napolitano, there should be a change in the length of amortization that is available to home buyers.
Typical 25-year amortizations are becoming almost impossible to afford for most young Canadians, and questions of allowing 30- and 35-year amortizations are beginning to rise.
Mandatory house inspections are another growing question. Many Canadians are using their life savings to purchase that home and many of them are ending up with daunting repairs on a home they thought were safe and up to code.
As the Ontario elections are coming up, we can expect to see talks about cost of living and housing in party leaders' platforms. We hope that there can be some change made to help Canadians towards purchasing their first home.
To hear the full podcast; click here
Contact your Mortgage Broker today for trusted advice