Open House - The Real Estate & Mortgage Show: July 12th, 2022
Date Posted: July 12, 2022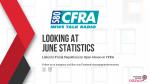 The number of sales in June were down 29% in comparison to previous months. The average sale price was up 4.7% year over year. When looking at year to date sales are down 16.1% but the average sale price is still up 10.4% with the average sale price sitting at $727,000. These numbers are looking as we expected them too after a long two years of increases in prices and sales.
With housing prices and inflation rising we are seeing fewer young Canadians purchasing their first homes in the market. Statistic from Toronto showed that 87% of young Canadians under 30 years old said they believed they would never be able to own a home if they stayed in Toronto. We hope to see changes made in the mortgage industry that will allow young Canadians to enter the housing market.
As we move through 2022 and slowly recover from the COVID pandemic we are seeing some people moving back into the city as they return to offices and try to avoid the rising costs of gas. Even though you can get more house for your dollar outside of the city, some people can not justify the cost of the commute anymore.
To hear the full podcast; click here
Contact your Mortgage Broker today for trusted advice