Open House - The Real Estate & Mortgage Show: April 9th, 2022
Date Posted: April 11, 2022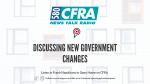 This week we look at the comparison in sale numbers and sale prices compared to last year. When looking at number of sales, we saw less sales in March than we did in March 2021 however, we are still more than the 5-year average. In terms of sale prices, we are still seeing huge increases when comparing with previous years.
However, there is good news for sellers and buyers. We are beginning to see an increase in listings across Ottawa. Usually, we are hovering around 1100 listings that are active on the market and now we are seeing about 1400 listings currently active. Many listings are coming up in Kanata and Barrhaven areas but are disappearing quick, whereas listings in Orleans are moving a little slower.
The questions can be asked – will we see a decrease in prices soon? The unfortunate answer is no, however, we will most likely begin to see a plateau in sale prices in the future.
A big roadblock in bringing housing prices down is the limitations we are seeing enforced on home builders. We know there are many home builders who are ready to build new houses in Ottawa however the process in getting the approval to start has become increasingly difficult. This is putting a big halt on the development of new houses in Ottawa which is also making it hard to keep housing prices down.
Big changes have been announced by government in several different aspects of buying, selling, and owning homes. We've heard a new announcement about taxing house flippers as a business as well as new implications to make home inspections mandatory when selling your home. Both new rules do have positive and negative impacts depending on which point of view you look at it from.
The good news about all these new changes is that they are noticing problems within the industry and are taking strives to make it fairer and more manageable for Canadian homeowners.
To hear the full podcast; click here
Contact your Mortgage Broker today for trusted advice