Open House - The Real Estate & Mortgage Show: April 30th, 2022
Date Posted: May 2, 2022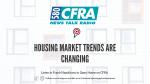 The big question these days is: will the housing market slow down and will interest rates keep rising? The answer is becoming more and more a big yes. We've certainly started seeing rising interest rates over the last two months and they are forecasted to keep increasing. We are also starting to see the housing market begin to slow down in terms of number of sales and sale price.
A lot of Canadians are starting to feel that they simply will not be able to own a home and it is beginning to look like the reality for most young Canadians. Until we see a change in the market, housing prices will remain where they are for some time.
People holding investment properties are starting to see that it is difficult to make their cash flow from rents. Rental prices haven't been increasing as much as mortgage payments have and now, we are seeing mortgage payments outweigh the rental income people can receive.
To hear the full podcast; click here
Contact your Mortgage Broker today for trusted advice