Open House - The Real Estate & Mortgage Show: April 29th 2023
Date Posted: May 1, 2023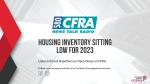 Frank and Paul discuss the current state of the housing market. Inventory is currently low compared to a usual spring market, and Frank and Paul forecast that as rates begin to come down in late 2023 we will see housing prices begin to rise.
To listen to the full episode, click here.
Contact your Mortgage Broker today for trusted advice.