Open House - The Real Estate & Mortgage Show: April 23rd, 2022
Date Posted: April 25, 2022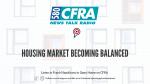 Increasing interest rates are the current trend for 2022. This is driving up the number of listings as homes are taking increasingly longer to sell. Homeowners are still hoping to get that big homerun sale but are ending up surprised with the length of time it takes to sell and the final price they get.
However, we are still in a seller favoured market, but the good news is that we are slowly heading towards a balanced market again.
As the market slowly becomes balanced, we begin to look at the upcoming changes to blind bidding announced by the Ontario Government. The changes impose an option for sellers to keep bidding private or make them open and public to other bidders.
This is receiving controversial reactions from critics because by leaving the choice up to the seller, the seller will likely choose blind bidding every time.
This is because it is in the sellers' favour to keep the bidding blind as you can typically get a higher price out of your home. There are even cases where a buyer will out bid themselves for no reason other than not knowing who the highest bid is.
All this to say, people believe the best decision would be to either leave blind bidding how it is, or completely remove it altogether. Leaving the sellers with the choice will make very little change.
To hear the full podcast; click here
Contact your Mortgage Broker today for trusted advice