Open House - The Real Estate & Mortgage Show: April 16th, 2022
Date Posted: April 18, 2022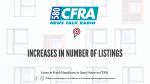 This week Dora Bejaoui fills in for Paul Rushforth and we discuss current number of listings on the market.
In the core of Ottawa (Carleton Place to Orleans) we are seeing about 650 residential listings and we are seeing less sales than the number of listings being added. This is good because we are starting to see an increase in inventory.
Bank of Canada increased their interest rates last week by 0.50% and interest rates across all banks and lenders have also increased by about 1% over the past two months, leaving us at a 4% average.
With inflation affecting the market we can only hope to slowly see a plateau in housing prices to give the country a chance to catch up. The good news is that we are seeing an increase in inventory which is an earlier indicator to a plateau in housing prices.
With the addition of new government regulations such as mandatory home inspections, buyers can feel a little more comfortable about buying a home in the very fast paced market we've been thrown into over the past two years.
To hear the full podcast; click here
Contact your Mortgage Broker today for trusted advice