Ontario Offers Alternative to Blind Bidding on Real Estate
Date Posted: April 20, 2022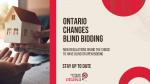 The Government of Ontario will be introducing new regulations to take effect next year which will help make the homebuying process more transparent.
According to Ross Romano, the Ontario Minister of Government and Consumer Services, the regulations will enable home sellers to disclose details of competing bids on their properties if they choose and the province wants to give sellers the option of what it calls an "open offer" process.
Under the current system of blind bidding, potential homebuyers submit their offers but do not know the contents of competing bids. The law states that real estate brokerages who represent clients must disclose the number of written bids but not the substance of those bids.
However, under the new regulations, sellers would have the option to open the bidding process and make all offers transparent. This means that the brokerages who represent them would disclose all details of competing bids at the discretion of sellers.
Lesli Gaynor, a real estate sales representative in Toronto, believes that it shouldn't be an option but rather enforced as the only method or not allowed at all. She believes that if the option is there, nobody will choose to make the bidding process open if the option to keep it blind remains.
Mike Schreiner, leader of the Green Party also agrees with these statements as he says it is in the sellers' best interest to keep buyers in the dark.
For expert advice, contact your mortgage broker.
Click here to find a broker.